Welcome to Home of Coroplast Signs:
Signs can be made from 4mm (popular thickness), 6mm, 8mm and 10mm corrugated plastic, they also come in a variety of colours and can be printed on both sides. These signs are categorized as:
Light weight & Strong signage
UV Resistant & UL Recognized Component
Weather/Water Resistant (also stain resistant) & Highly Durable
Optimal for direct digital printing
Signs are easy for bending, routing and cutting
Extremely flat, moisture-resistant & durable
Solid core composition prevents bowing, swelling, warping & de-lamination
Why Choose Coroplast Sign?
Coroplast signs are versatile, adaptable to most projects; Here are most commonly used and Recommended Applications:
Custom modules, ask our experts
Lawn Signs & Yard Signs (Most Used)
Political Campaign/Election Signs (Popular)
Real Estate Signs/Sold,For Sale, Riders
Construction Signs/Fence Signs
Sale Signs, A-Frames & Target Signage
Trade Shows Promotion or Exterior Signage
Garage Sale Signs
Signs like Scoreboards, Billboards, Canopies, Highway Signage, Fascias & Govt. Spec. Work
Other Special Events
Coroplast signs are most produced and printed at ElectraColour as core business, our very experienced staff can offer you full range product solutions to make your business more visibility. We can assist you from start to end including artwork, printing and finishing product.
These signs are all season(weatherproof signs) & all purpose affordable signs made of corrugated plastic sheet which can be placed indoor or outdoor. They are pretty much sturdy and are versatile enough to be used permanent or temporary signs.
Chemically inert and additive-free, archival-grade corrugated plastic is ideal for environmentally sensitive graphic applications. Many standard colors and sizes are available. Custom colors are available by quote.
Signs by Coroplast is the material of choice for today's screen printing printer to digital industry. Coroplast is ideal for interior and exterior applications. It is tougher than corrugated fiberboard and lighter than extruded plastic sheet.
This stock electrolytically double treated by "Corona Discharge" on both sides in-order to allow specifically formulated inks and adhesives to adhere.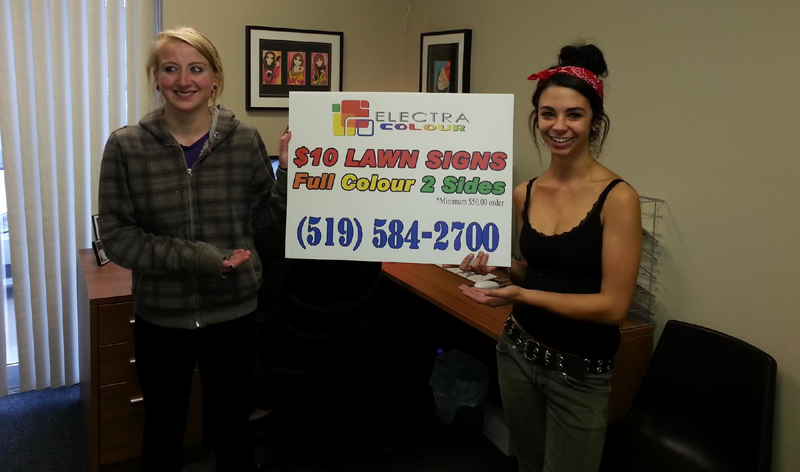 Coroplast Lawn Signs, Boards Printing in Kitchener-Waterloo & Cambridge area
ElectraColour popularly known for lawn signs, outdoor signs, a-frame signs. These are easy to setup, last longer and in-expensive. Print signs in full colour, single or both sides. Single sheet sign up-to 4x8 feet. Custom sizes (by our CNC machine), shapes are available. These are also used for Election signs for Mayor, MP or MPP, Ward Councillor elections or advertising a new store, product or restaurant, our 4MM, 6MM, 8MM or 10MM signs will help you get the word out cost effectively.
Lawn/Yard Sign (Plastic Sign) Printing
Coroplast, is the sign substrate of choice for quality sign making. Material is a lightweight, durable corrugated plastic material able to withstand the elements for extended periods of time (ask us about our 2year print guarantee). Plastic signs are inexpensive professional looking promotion of your business, and is easily secured to windows, doors or walls, exterior or interior surfaces.
Rigid 4mm Coroplast signs is typically used for real estate riders, sale, sold signs, yard signs, garage sale, parking signs, church signs, birthdays or baby announcement messages/wishes, elections and business advertisements. Why wait just start your coroplast signs with us.