Quick Service Restaurant (QSR) Graphic arts, printing & installing
Monday, August 11, 2014
The most effective way QSRs and convenience stores can compete and sustain growth is by being technologically innovative. A quick service restaurant applying innovative technology to facilitate more efficient operations while driving customer engagement. QSR industry that does digital menu-boards and had the resources and smarts, early on, to actually ask customers
Digital Signage for QSR Services - Kitchener Waterloo & Cambridge area

Enhanced customer experience is one of the major benefits of digital menu boards. These displays helps create a livelier atmosphere for patrons to keep them coming back for more! These enhanced electronic systems improve customer communications by getting directly to the point and being able to show all necessary information in one central location. Fast food restaurants save money by eliminating printing and delivery costs which in essence helps reduce their carbon footprint. High definition images and brightly coloured layouts on these flat screen systems provide visitors with a visual treat.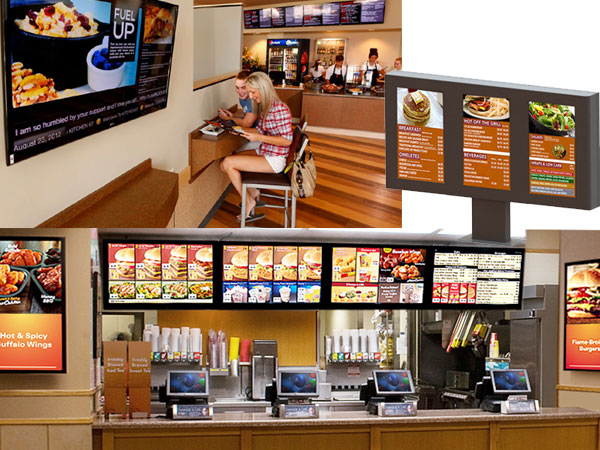 Food is perishable which makes the restaurant industry one of the highest capable sectors to profit from this technology. With different seasons come different foods and crops so the menu options at food service estd. are always changing and so do these versatile kits.These systems allows for easy updating of prices with the changes in the market.
The restaurant fixture displays different food items depending on the time of the day. From breakfast to lunch to dinner with easy and eliminates the need to waste employee labour. Signage content is ideal when marketed towards a specific demographic based on trends noticed by the restaurant owners. This display for restaurants helps create an ambiance.
Call ElectraColour today for utilizing the benefits of a large format displays to your business with High resolution while maximize your messaging without having to stretch your budget.