Laminating Services in Kitchener
Laminating in Kitchener is easier & protect, enhance and organize your digital prints. From menus, boards signs, business cards to brochures, wide format signs and banners, or even personal photos, welcome to laminating service to get a clear, consistent lamination in a multitude of textures and finishing.

Lamination in Kitchener, a service is available very conveniently, cost can be varied based on the volume and no small job is too small for us. We also offer roll to roll lamination service. One simple reason why you need lamination is protect the print or extend the life expectancy! Virtually any form of digital prints, printed on inkjet technology or solvent based inkjets requires (solvent based prints lasts up-to 2 years in outdoor conditions) either film or liquid lamination service for protection & durability.
When it comes to laminating service, look no further than ElectraColour lamination service. We deliver a flat, clear output and we hear to protect your prints & help you get the best exposure by long lasting.

Laminating Service in Kitchener is very popularly used service for restaurants menus, posters for repeat events, companies certifications so that paper printed lasts longer, outdoor & indoor signs for franchise locations provides glossy and shiny look & feel.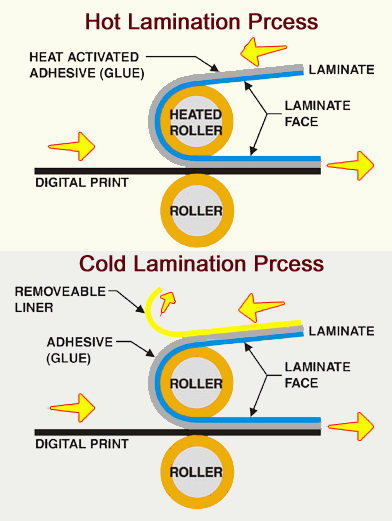 Laminating service in Kitchener
does not cost a lot when ordered in high volume, minimum orders are done based on the importance where cost is not matter. We offer wholesale pricing for Laminating service in KW area, We also offer delivery depending on the size of job, out of Kitchener Waterloo area, we can deliver via shipping.
Laminating service is an essential to do for repeat events, posters or items which need to be long lasting or spill proof. Kitchener Oktoberfest is one the popular events in that happens right in downtown Kitchener-Waterloo area. Many unique and repeat events take place in Kitchener City Hall, Bingemans in Kitchener, Downtown Kitchener. Every one of these events needs posters, banners, lawn signs, flyers, shields, certificates etc.,
In Kitchener most economy is based on manufacturing; small and growing businesses are vastly increasing.
Another reason to consider laminating service is because of how it lets a business do more with its products. Whether restaurant management is looking at a new menu, our door signs around patio seating or is simply aiming to display employee guidelines, there's something to be said for protecting the prints from wear and tear.
Lamination also protects important documents (some documents may be requested not to laminate) avoids kids from drawing by pens or markers. Or a laminating pictures can be used for mats or meant for gifts to grandparents, relatives & friends.
How Lamination service helps branding?
When posters are printed & laminated, the life of the poster is automatically extended, and also protected from wear & tear. More often these posters are used for display, repeat views by visitors, customers will make them remember your pattern, logo, message, colour, etc., which helps in utilizing your investments work for your branding many times. You you will get more exposure and its the most powerful if leveraged correctly.
Seasonal usage, repeat displays based on the timings or occasions. We at ElectraColour prints and laminates in Kitchener in our location. We also laminate Vinyl banners for outdoor, posters, board signage. Although we do large volumes, no work is too small and we laminate any quantity. Remember the benefits of using professional quality
lamination in Kitchener
.
We've been providing lamination in Kitchener for quite some time. Contact us to learn more. A Short video of our laminating system:
Think laminating, then Think ElectraColour
Laminating Vs Regular

Call us for professional advice on laminating or not. Usually a laminated product last longer for high traffic areas, wet hands over the printed material outdoor or indoor ex: restaurant menus. You should also consider the cost, lifespan of poster or vinyl banner as well as its appearance.
Advantages of Laminated a poster or menu:
Longer lifespan of the poster
Durable against tears and liquid spills (spill guard)

High Glossy finish & shiny draw eyes to look, adds thickness to the poster
Avoids writing on the poster, but will help to write temporary marker to guide

Advantages of Non-Laminated
Save money / Low cost

Not required if the poster has expiry date

Disposal: since the poster is just printed paper, it can be recycled very easily
Non-laminated posters are great for one time events, or events with expiry date, and when the quantity of posters is more important then the durability of the posters. Laminating a poster, menu or vinyl banners in every situation that requires a banner/poster to last longer or whenever a poster/menu will be re-used for multiple occasions.